I still haven't managed to get the knack of cutting fimo canes as thin as they need to be. As a result this design is rather... erm crap.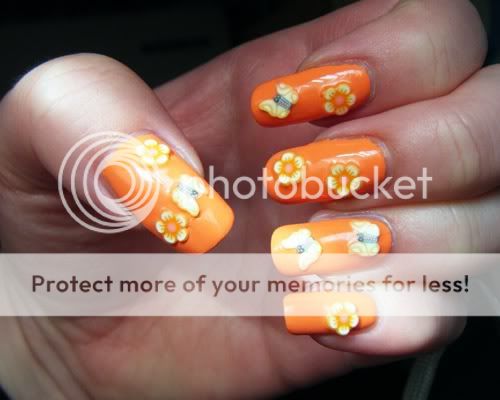 I definitely need a better blade for cutting them. The one I have now is sharp enough but it's really skinny so I have trouble gripping it.
This design didn't even last 24 hours, the fimo butterflies and flowers were so chunky and sticky out-y I ended picking them all off my nails pretty much as soon as they had dried. I couldn't stop myself.
The colour underneath is George quick dry nail varnish in sunset orange. This is actually my first George varnish because my local Asda doesn't stock it. I bought it when it was offer for only £1. For that price I wasn't expecting a lot but I was pleasantly surprised. It achieved full coverage in only two coats and lived up to it's quick drying name. I was expecting something more peachy from the colour of the bottle but when applied on the nails it's more vivid and orangey, I can see why they named it sunset orange.
So I'll be going back to the cutting board now (Cutting board? Geddit? Haha)
Ta ta for now
Faybee x